Sensations Worldwide rank amongst the leading exhibition stand design companies in Europe, alongside headquarters established in Germany. With experience and worldwide clientele gained over two decades, we have extended our core services varying from the dedicated project manager, consulting clients, conceptualizing stand, and booth designs, executing the final fabrication of the exhibition stand and finally installing and dismantling the stand. These extended services help us carter our clients across Europe while keeping us in the lead race of exhibition stand and booth contractors in Europe.
We are the most consistent exhibition booth design company offering 360° services for the last 20 years, helping brands/businesses run their excellent display stands across Europe with our main assistance derived from our Germany office. Our in-house team of creative booth and graphic designers deliver innovative and exceptional custom exhibition stands while following the industry's technical specifications. Furthermore, to run a hit display exhibition, our proficient on-site managers supervise the show floor to avoid any glitches during the exhibition.
Other than that, wrenching down all the possibilities of running off track, adroit supervisors present on-site makes the display exhibition stand an excellent success. The in-depth knowledge and proficiency of our experts cooperating with your exhibition booths help deliver unbeatable execution under promised timelines. We maintain a record of creating unforgettable experiences for our brands. Our capability to meet the requested needs of clients has made us stand amongst the best prominent exhibition booth design companies in Europe. 
We Are A Creative Exhibition Stand Design & Booth Builder Company
Select Your Exhibition Stand / Booth As Per Your Requirement
Why Sensations Worldwide?
Sensations Worldwide are among the most trusted exhibition booth builders in Europe and one of the leading global exhibition stand design companies. Our local presence, ability to meet our client's expectations and timely deliverables have taken the company's name to the list of internationally trusted booth contractors. The in-house graphic & exhibition stand designing and building team at Sensations Worldwide is not just highly experienced but also drives the work with utmost creativity and with a keen eye for industry-specific expertise. With the help of our engaging booth designs, in-depth knowledge, and expertise as a 20 years old stand contractor, we ensure a hassle-free exhibiting experience for our clients.
Sensations Worldwide are in the top charts of prominent exhibition stand design booth contractors in Germany, including the entire of Europe. We offer 360° exhibiting services accompanied by various booths ranging from the custom, modular, country pavilion, and double-decker stands. Our sole forte is to design, build, and deliver award-winning exhibition stand designs that also keep the capability to attract several show visitors.
Not by simply abiding by our core services, we also take care of stand installation, dismantling, storage & shipping processes so that you can completely focus on your business and meetings post the show. Being the best exhibition stand manufacturer in Europe, our sole motto remains: "assist the clients in creating a great impact in the market, so the world knows what you sell"! And we put our best foot forward to help our clients create that engaging and interactive impact amongst their industry peers.
We are amongst the enthralling exhibition stand design and build contractors.
 As a chief exhibition booth manufacturer and contractor in Germany and Europe, we bring invincible creativity driven by utter passion and excellence to the show floor! Above all, to sustain our client's brand in the market, we aggressively work under state-of-the-art technology that facilitates them to achieve maximum business and results. Nonetheless, we strictly adhere to deadlines while keeping our clients in the loop at every step of the exhibition stand designing and manufacturing process. Last but not the least, our knowledge of local exhibiting rules gives us an edge in planning your stand designs and other manufacturing-related work. If you come up with any exhibition stand construction query or have any brief to be shared with us for your upcoming exhibition booth designs, then feel free to get in touch with one of our stand design and building consultant. We promise you the earliest response!
Our global exhibition stands designing experience of 20 years gives us the advantage to deliver entire exhibition stand construction solutions at international levels while complementing the modern display stand design proposed by exhibitors.
02 

Quality & Transparency
Our high percentage of retained clients speaks for our quality assurance. The Sensations team also maintains the utmost transparency with the patrons at each step of the show stand design and construction process. Quality and Transparency maintained from our end ensures the clients fully concentrate on their expo exhibition stands.
03 

Creativity & Detailing
To make sure your customized exhibition stand is distinctive, our professional exhibition stand designers and skilled craftsmen meet the client's exhibition objectives following unmatchable Creativity & Detailing.
Major Continents With Direct Presence
Sales Offices & Manufacturing Units Across Globe
Successful Projects Executed in 300 Days
Prominent Client Retention & Recurrence Rate
We Are Associated With The
Biggest Brand

Across The Globe
We have some amazing clients all across the Globe. See what our clients say about the services provided by Team Sensations !!
NG Biotech
I asked Sensation Worldwide two years in a row for one of our most important events of the year in Germany. They are flexible to the different requests for the booth design and answer quickly to the potential questions during the entire process until the show. We are satisfied by our collaboration and we also had very good comments from the visitors during the event.
Fortinge
To sum up we were happy about the booth in overall. And your colleagues performed their best while building the booth. They helped us a lot and they did what we requested. Also they came back again during the show to check if there is anything wrong or if we have some other requests. Thank you and the team for all that
Kyung Dong
I hope you are well. The booth is perfect everything is great. Thank you for your works. I would like to give you 10/10. Thank you for your hard work.
Urbanista
We were overall very happy with the fair. Improved quality, Good service, English speaking worker, good TV screen – thanks for that
Unigloves
I found Sensations an efficient company to work with, their dedicated project manager ensured that the project was kept on track. Their proposal for the A+A Fair was our favourite from day one, and the end result in Dusseldorf looked great.
CEDA PRESS LLC
We would like to thank you for your great cooperation and professionalism. I especially want to thank your designer who had patience and made a few changes until he met our expectations. All our visitors also said that the stand is beautiful and elegant, it is a pity that this IDS was less visited, but we hope there will be opportunities for our cooperation again.
Lars Kåhre (CEO, Founder)
Now IDS is over, and I wanted to thank you for a superb co-operation and team. I have worked with many exhibition constructors, and this one was definitely the best experience. The team at site was very helpful, always quick to fix and solve things, and they did a very good work.
Cannon Viking
"I want to thank you and your team once again for all the efforts made at this show- we were overall satisfied with the stand built and quality."
Ellegi
"Professionlism of Insatllation team was good enough, will surely recommend you to our channel partners."
PICCHI
"I recommend Sensations Worldwide for good quality work and professionalism."
Fitpack
"Everything was just perfect. Thanks to team Sensations !!"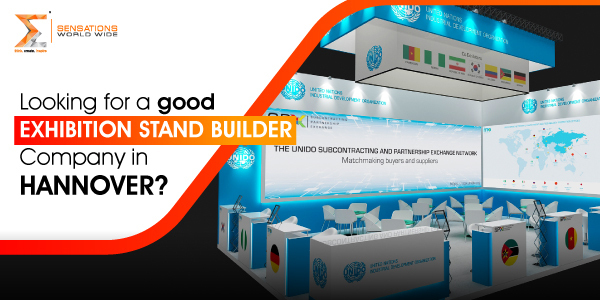 Your business could be on track if you are looking for an exhibition booth builder in Hannover. When in Hannover, you must not forget about Hannover Messe 2023, (17 - 23rd April 2023) a great exhibition to speed up your networking expedition surrounded by...
read more
Europe Office & Production House
ul. Młyńska 16 | 8th floor, 61-730 Poznań, Poland. NIP - 7831749129
Keizergracht 391 A, 1016EJ, Amsterdam, The Netherlands
International Trade Centre Friedrichstr. 95, 10117 Berlin
5800 S. Eastern Ave., Suite 500 Commerce, California, 90040
Suite-C 6285 South Valley View Boulevard C, Las Vegas, USA
2967 Dundas St. W. #1303 Toronto, ON M6P 1Z2